Jordan & Skala's Aaron McEwin Selected as a 2019 NGBS Green Partner of Excellence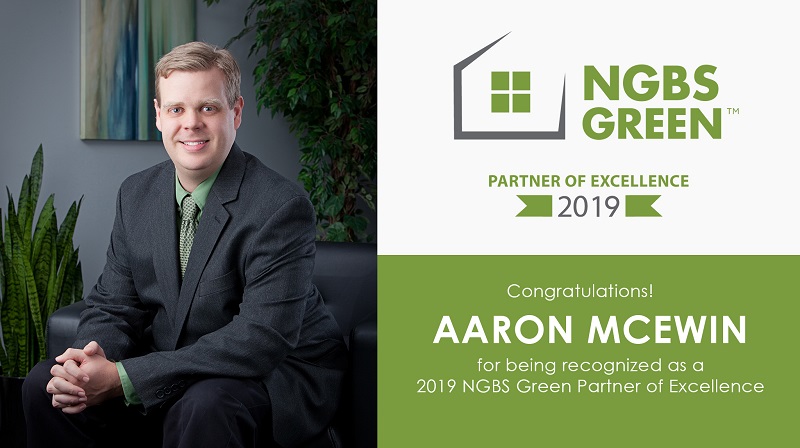 For the fourth year in a row, Jordan & Skala Engineers' Aaron McEwin, Director of Sustainability, is selected as a National Green Building Standard (NGBS) Green Partner of Excellence by Home Innovation Research Labs.
Home Innovation Research Labs is a full-service market research, consulting, product testing, and accredited third-party certification agency in the home building industry. Every year, this agency narrows down a list of qualified candidates nationwide and selects the most exceptional to recognize as an NGBS Partner of Excellence. These individuals and companies are selected for their outstanding contributions and commitment to advancing green building in their communities.
This year, Home Innovation's national certification program categorized the NGBS Partners of Excellence into three segments – NGBS Green Verifiers, Single-Family Builders/Developers, and Multi-family Builders/Developers. Aaron was recognized in the Green Verifiers category as a 2019 NGBS Green Master Verifier. NGBS Green Master Verifier is an exclusive, top-tier accreditation recognizing existing NGBS Verifiers that hold significant knowledge and apply experience verifying compliance to the National Green Building Standard.
Over the course of several years, Aaron has exhibited the leadership in the field and commitment necessary to be selected among a wealth of great candidates. Home Innovation's Vice President of Sustainability, Michelle Foster, states, "We feel those we recognized this year are truly the best of the best. These are the people and companies who are influencing how green buildings are designed and constructed today, and who are helping shape how they should be built in the future."
We understand that this is a great achievement for Aaron along with our Sustainability Services team, and we would like to thank Home Innovation Research Labs for the recognition. There is still a lot of work to be done to help advance the green building efforts and Jordan & Skala is committed to helping to move the needle forward.
Our Sustainability Services team has the technical knowledge to provide guidance and education for a wide-variety Green Building Programs such as NGBS, LEED and more. Learn more about our services by visiting our Services page or contacting our Sustainability Business Development Manager, Erin Bordelon.
https://www.jordanskala.com/wp-content/uploads/2022/03/Jordan-Skalas-Aaron-McEwin-Selected-as-a-2019-NGBS-Green-Partner-of-Excellence.jpg
400
400
admin
https://www.jordanskala.com/wp-content/uploads/2022/03/Jordan-Skala-Logo.svg
admin
2020-06-05 00:00:00
2022-03-20 08:43:38
Jordan & Skala's Aaron McEwin Selected as a 2019 NGBS Green Partner of Excellence